Get answers to important questions quickly.
The Clermont County Auditor has the tax, real estate, county financials, licensing, and other resources you need.
Auditor's Office is CLOSED to the General Public for ALL in Person Transactions

Due to the ongoing impacts of COVID-19 and for the safety of the public and our staff the Auditor's Office is CLOSED to the general public for ALL in person transactions until further notice. Our staff is diligently working to process all requests.  We apologize for any inconvenience.

Please utilize our drop boxes located in the front and rear lobbies
All forms can be found on our website clermontauditor.org
Dog tags can be purchased online or at a local vendor see dog license page here

Questions:  Please call, 513. 732-7150 and leave a message.  We will return your phone call as promptly as we can.

Dog License Information

The Clermont County Auditor's Office is pleased to offer online licensing services.

DEADLINE TO PURCHASE OR RENEW DOG TAGS EXTENDED TO JULY 1, 2021

Dog License Information

REAL ESTATE APPRAISALS & ASSESSMENTS

Clermont County has nearly 95,000 separate parcels of real property. It is the duty of the Auditor to see that every parcel of land and the buildings thereon are fairly and uniformly appraised and assessed for tax purposes.

Learn More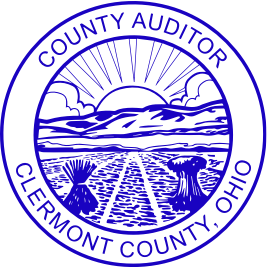 THE CLERMONT COUNTY AUDITOR IS HERE TO SERVE YOU
We understand how confusing property taxes, licenses, and county finances can be. The role of the Clermont County Auditor is to ensure that you have a clear explanation of where your tax money goes, transparent access to information, and a way to communicate or dispute property tax issues. We believe it should be easy to find what you need quickly, which is why we have made this website easy to use, with simple explanations and clear directions.